Nomination agli Oscar, cosa ne pensate?
Di Elvezio Sciallis, scritto il 24 Gennaio 2012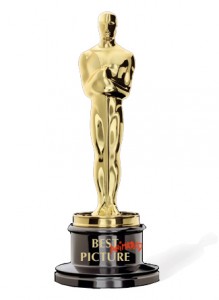 Avrete già visto, sia in giro per la Rete che su carta stampata e media televisivi, che sono uscite le nomination per gli Oscar: alcune di queste pellicole devono ancora arrivare in Italia e quindi per noi è ancora più difficile giudicare i vari settori e mancano comunque alcuni titoli su cui magari ognuno di noi puntava.
La cerimonia per l'84esima edizione dei Premi Oscar si terrà presso Il Kodak Theatre il 26 febbraio e sarà condotta da Billy Crystal, abbiamo ancora circa un mese per meglio valutare queste candidature, eccovi alcune delle sezioni più importanti, abbiamo lasciato i vari titoli in originale:
Miglior film
The Artist
The Descendants
Extremely Loud & Incredibly Close
The Help
Hugo
Midnight in Paris
Moneyball
The Tree of Life
War Horse
Miglior regista
Michel Hazanavicius, The Artist
Alexdander Payne, The Descendants
Martin Scorsese, Hugo
Woody Allen, Midnight in Paris
Terrence Malick, The Tree of Life
Miglior attore non protagonista
Kenneth Branagh, My Week With Marilyn
Jonah Hill, Moneyball
Nick Nolte, Warrior
Christopher Plummer, Beginners
Max von Sydow, Extremely Loud & Incredibly Close
Miglior attrice non protagonista
Bérénice Bejo, The Artist
Jessica Chastain, The Help
Mellisa McCarthy, Bridesmaids
Janet McTeer, Albert Nobbs
Octavia Spencer, The Help
Miglior attore protagonista
Demian Bichir, A Better Life
George Clooney, The Descendants
Jean Dujardin, The Artist
Gary Oldman, Tinker Tailor Soldier Spy
Brad Pitt, Moneyball
Miglior attrice protagonista
Glenn Close, Albert Nobbs
Viola Davis, The Help
Rooney Mara, The Girl with the Dragon Tattoo
Meryl Streep, The Iron Lady
Michelle Williams, My Week With Marilyn
Miglior Film in animazione
A Cat in Paris, Alain Gagnol and Jean-Loup Felicioli
Chico & Rita, Fernando Trueba and Javier Mariscal
Kung Fu Panda 2, Jennifer Yuh Nelson
Puss in Boots, Chris Miller
Rango, Gore Verbinski
Miglior Fotografia
The Artist, Guillaume Schiffman
The Girl With The Dragon Tattoo, Jeff Cronenweth
Hugo, Robert Richardson
The Tree of Life, Emmanuel Lubezki
War Horse, Janusz Kaminski
Miglior Film straniero
Belgium, "Bullhead", Michael R. Roskam, director
Canada, "Monsieur Lazhar", Philippe Falardeau, director
Iran, "A Separation", Asghar Farhadi, director
Israel, "Footnote", Joseph Cedar, director
Poland, "In Darkness", Agnieszka Holland, director
Miglior canzone originale
"Man or Muppet" from The Muppets, Music and Lyric by Bret McKenzie
"Real in Rio" from Rio, Music by Sergio Mendes and Carlinhos Brown, Lyric by Siedah Garrett
Migliore sceneggiatura non originale
The Descendants, Screenplay by Alexander Payne and Nat Faxon & Jim Rash
Hugo, Screenplay by John Logan
The Ides of March, Screenplay by George Clooney & Grant Heslov and Beau Willimon
Moneyball, Screenplay by Steven Zaillian and Aaron Sorkin. Story by Stan Chervin
Tinker Tailor Soldier Spy, Screenplay by Bridget O'Connor & Peter Straughan
Miglior sceneggiatura originale
The Artist, Written by Michel Hazanavicius
Bridesmaids, Written by Annie Mumolo & Kristen Wiig
Margin Call, Written by J.C. Chandor
Midnight in Paris, Written by Woody Allen
A Separation, Written by Asghar Farhadi
Miglior Scenografia
The Artist: Laurence Bennett (Production Design); Robert Gould (Set Decoration)
Harry Potter and the Deathly Hallows Part 2: Stuart Craig (Production Design); Stephenie McMillan (Set Decoration)
Hugo: Dante Ferretti (Production Design); Francesca Lo Schiavo (Set Decoration)
War Horse: Rick Carter (Production Design); Lee Sandales (Set Decoration)
Migliori costumi
Anonymous, Lisy Christl
The Artist, Mark Bridges
Hugo, Sandy Powell
Jane Eyre, Michael O'Connor
W.E., Arianne Phillips
Miglior montaggio
The Artist, Anne-Sophie Bion and Michel Hazanavicius
The Descendants, Kevin Tent
The Girl with the Dragon Tattoo, Kirk Baxter and Angus Wall
Hugo, Thelma Schoonmaker
Moneyball, Christopher Tellefsen
Miglior trucco
Albert Nobbs, Martial Corneville, Lynn Johnston and Matthew W. Mungle
Harry Potter and the Deathly Hallows Part 2, Nick Dudman, Amanda Knight and Lisa Tomblin
The Iron Lady, Mark Coulier and J. Roy Helland
Miglio colonna sonora
The Adventures of Tintin, John Williams
The Artist, Ludovic Bource
Hugo, Howard Shore
Tinker Tailor Soldier Spy, Alberto Iglesias
War Horse, John Williams
Migliori effeti speciali
Harry Potter and the Deathly Hallows Part 2, Tim Burke, David Vickery, Greg Butler and John Richardson
Hugo, Rob Legato, Joss Williams, Ben Grossman and Alex Henning
Real Steel, Erik Nash, John Rosengrant, Dan Taylor and Swen Gillberg
Rise of the Planet of the Apes, Joe Letteri, Dan Lemmon, R. Christopher White and Daniel Barrett
Transformers: Dark of the Moon, Dan Glass, Brad Friedman, Douglas Trumbull and Michael Fink
Seguici sui social
Passa a Brave!
Brave
è un browser velocissimo, senza pubblicità (ad-blocker integrato) e molta più privacy. Scopri tutti i
dettagli di Brave
e di come potrai anche guadagnare navigando.
Provalo
e, oltre a rimanerne entusiasta, sosterrai anche il nostro blog!
Sponsor
Da non perdere